You'll apply your promo or coupon code during checkout on https://watch.dogtv.com/registration
In some cases, a promo/coupon code will be added during the checkout flow, after you've selected a subscription type, as shown in this image.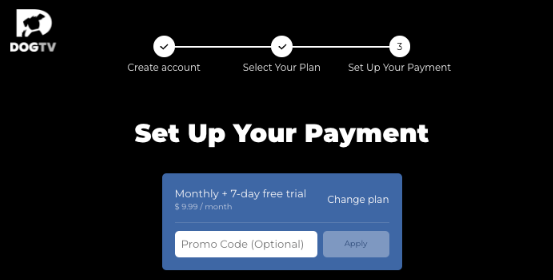 Your code will be processed towards that subscription type. If it is a "Monthly" promotion, select the Monthly subscription type first, then apply the coupon code, if an "Annual" promo, select Annual subscription, then apply the promo code.
Please note that promo and coupon codes CANNOT BE APPLIED when you are subscribed through a third party app platform like Roku or Apple. In order to use a promo or coupon code, you must subscribe via DOGTV.com.
Using a DISCOUNTED Promotion Code:
If you purchase a Subscription with a discount using a promo code (for example, select the 
Annual + 7-day free trial
); then in Step #3, apply your promotional code and enter payment details.
Please note
, that using a discount code overrides the trial period and results in an immediate charge to your credit card for the full amount in order for you to take advantage of this special discounted offer.
You will see the savings prior to entering your credit card details, as shown below.
*Most subscriptions come with a 7-day free trial with the EXCEPTION of subscriptions offered with a discounted promotional code.
USE OF DISCOUNTED PROMO CODE / COUPON CODE WITH SUBSCRIPTION EXCEPTION:
Billing is immediate when a promotional code is redeemed for a discount offer. Use of this type of discounted offer forfeits a 7-day trial as the discount overrides the trial period listed at checkout.